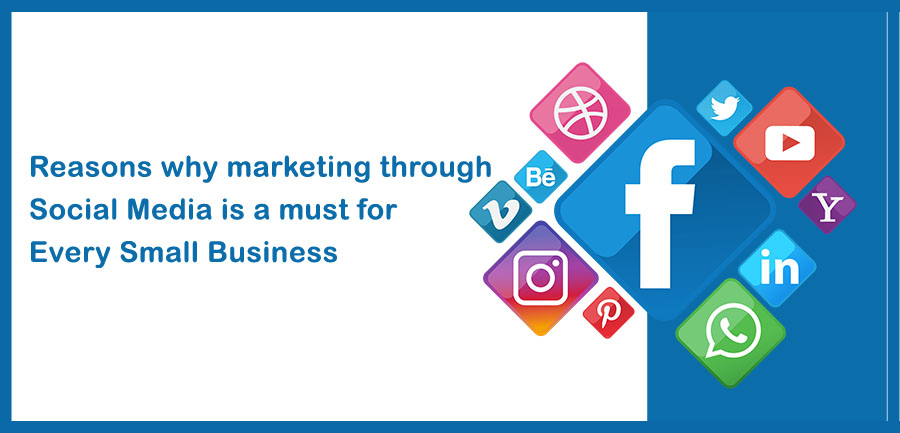 ---
By SKP Global | September ,16th 2021
---
15 Reasons Why Marketing Through Social Media is a Must for Every Small Business
The word "Digital Marketing" has driven away advertising and promotions to another world with the subsets of search engine optimization, social media marketing, email marketing, and more. Of all the other means, "Social Media Marketing" has emerged out to be the most prominent, easiest, and of course, the most efficient platform to promote all the products and services.
Today, the social media and the internet have unquestionably changed the entire way of carrying out the businesses. Yes, they helped companies to access the information faster thereby making their marketing options much better and smarter than anything ever. It may seem to be overwhelming, but the importance of social media marketing cannot be overstated.
Indeed, social media marketing requires both creativity and strategy. Worldwide today, it can be seen that 97% of marketers have already started to implement social media strategy for their marketing that benefits them beyond the extended increasing sales. However, not all the businesses were aware of social media marketing and even, more than 50% of small businesses aren't using Social media platforms to promote their business presence online.
For people who were struggling to get started with social media marketing, here come the three main areas that a social media policy should include:
1. What your business does actually?
2. What your employees were?
3. What the public can do with your content?
Get know how social media marketing can help build your business!
It can be seen that there is a disconnection between the people who are experiencing social media marketing benefits and those who are struggling to get it. For them, this will help to learn about the benefits of:
Increasing business traffic
Growing brand awareness
Promoting brand's products and services
Check out the top 15 reasons below why Social media marketing is a must for every small business!!
Quite it can be observed that the greatest quantity of small businesses is very cautious about what type of marketing strategies they sink money into. When you have a limited budget for your business marketing, then it is essential to get the wisest for your capital. For achieving that, social media marketing services is the most flexible and cost-effective strategy for small businesses to implement in search of their targeted audience and revitalize sales over time. Here, we will help you cover the top 15 reasons why social media marketing is a must for small businesses.
1. Mass Usage - All potential customers are available on Social Media.
2. Builds awareness - Converting people as your customers.
3. Show authenticity - Helps your brand shine popularly.
4. Customer engagements - A new way to get engaged with your customers.
5. Cost-effective - Creating a campaign on social media with demographics.
6. Brand transparency - Through social media apps like Twitter, Instagram, and Facebook showing the advantages of their products
7. Easy Leads through social listening - Lead generation by knowing the customer's exact interests.
8. Customer Services - Helps brand to solve their problems regarding their products and services.
9. Gathering data from audience research to improve - Audience research similar to social listening.
10. Ranking up on SERP's - Search engines receives the rationality message of a brand.
11. Analyzing competitors' campaigns - Helps easily to keep an eye on your competitor's campaigns.
12. Managing crisis - When your business receives a wrong perspective and going down, posting a PR statement on all social media is a must.
13. Keeping up with on-going trends - Helps businesses to be aware of current trends and build respective campaigns.
14. Post campaign analysis - Helps understand how people have viewed your advertisement and how they have engaged with them.
15. Influencer Marketing - Hybrids the idea of celebrity endorsement and modern-day content-driven campaigns.
Tags : Digital Marketing, Social Media Marketing