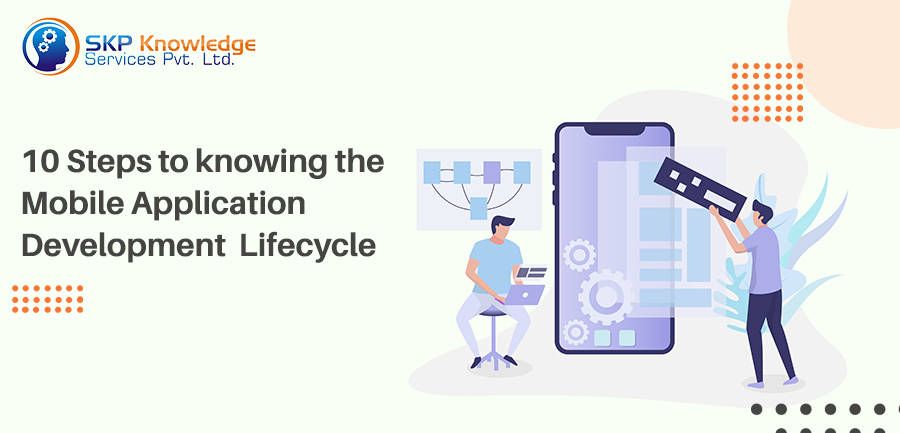 ---
By admin | July ,2nd 2021
---
10 Steps to Knowing the Mobile Application Development Lifecycle
Mobile applications are the new spread in our technology world. Millions of mobile applications available in the app store made lives convenient and simple. From social networking to gaming, mobile apps are becoming dominant in the smartphone market. The trending reports have recorded that most of the mobile devices are directed to mobile applications.
Understanding the lifecycle of mobile application development services will be a milestone for any tech business. This is because we get our connections, entertainment, and windows to the social media, shopping world, education, news, history, and business done through this mobile application.
The phases of Mobile Application Development can be approached step by step for deeper understanding. Let's go further involved in mobile app development.
1. Locate your Market
The initial step for developing a mobile application is selecting the audience based on your business type. Attracting a proper niche will make most of the application achieve success. Before starting, you must sketch the outline idea of your apps like unique offerings and services through the app. This will set the foundation stone for any application. Try answering these questions for understanding this phase:
Will your application stand out in the market?
What is the requirement of your app?
Which technology will form the base for that app?
What will be the investment required?
Who is your Target Audience?
2. Design the Technology Roadmap
The second step is visualizing a picture of where the application should stand in few years. You can also consider monetization strategies like paid applications, and premium features. Make better use of Minimum Value Product (MVP) that can improve the functionality of applications for the users.
3. Build on a Prototype
After discovering your market and pre-planning roadmap, developers can move into the development phase. There are long-run tools that can enhance the user experience. Collect those tools to work on the prototypes and detect errors before applying this to any application development.
4. Delivering the Prototype
After building, the next step is to deliver a prototype for testing. Pick valuable and honest reviewers for feedbacks & suggestions that will play a major role in application development.
5. Application Design before Development
The core phase cycle is designing an application with a user-friendly design for enhancing UX which is the User's Experience. Consider some form factors that shall help in UX optimization while developing an application.
6. Test Run
Application development needs time, resources, and a test run before it hit the app stores. Self-work on some parts to improve the working features after test runs and before launching.
7. Pre-Release before Final Launch
Choose the channels you wish to make use of your application's launch. Launching an app without using the app store must need different landing pages to market the application.
8. Launch App
This phase lets you officially launch your new mobile application for downloads. You can make use of any medium to drive more downloads.
9. Close Marking
Close marking will help you in monitoring the application to avoid chances of bugs that shall show up in the mere future.
10. Updates
Gathering the reviews and feedbacks for solving any issues is mandatory. The real work will start only after the launch of mobile application development services.
We hope our outlined steps will help you in your mobile application development journey.
Tags : Mobile Apps, Web Development