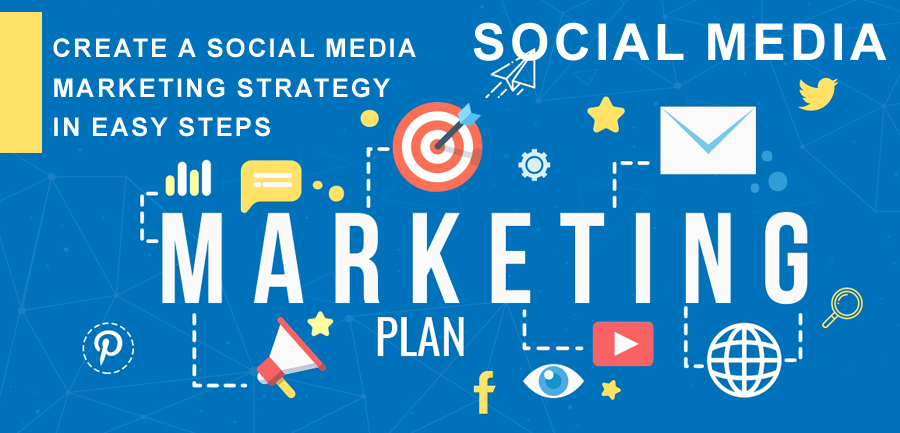 ---
By SKP Global | September ,16th 2021
---
How To Crate a Social Media Marketing Strategy In Easy Steps?
Are you ready to figure out what social media marketing strategy is? If you are overwhelmed or don't know how and where to start, then definitely you are not alone as this blog will help you with one of the most profitable activities of writing a social media marketing strategy on which a marketer can tackle. Yes, pump up your profits by creating an effective social media marketing strategy in easy steps as below.
Indeed, Strategy is planning! Check out!
What if you took one or two days to boost your business performance greatly? Wouldn't you immediately say yes, I will do it! Yes, strategies are the best ways to generate above average results in the business. Before you brainstorm and plan, get identify and create ideas, patterns, and best solutions. Driving a business without a strategy will be like reaching an unknown destination.
Social media marketing strategy - what it is?
A social media marketing strategy is an apt guide that helps you keep on track while you are planning and executing the stages of your social media marketing services. Indeed, it defines your overall purpose and intentions to carry out day-to-day planning and execution.
How to create Social media marketing in simple & easy steps?
Today, "Social media" has turned out to be the best marketing platform for most of the businesses since it is a low cost and highly effective means of marketing thereby reaching a large population of audiences. Using it optimally is the ultimate key and by the way, you can ace it with solid strategies. Follow the below steps on how to create solid marketing strategies with ease.
The best way to create a social media marketing strategy in easy 6 steps:
Here are some effective steps to be implemented on how to plan a social media marketing strategy and how to rock and attain potential results for businesses of all sizes.
1. Set business goals that make a sense
When you are starting to plan a marketing strategy, do establish specific objectives by aligning all your future decisions and actions which will make your progress get balanced and steady.
2. Research your target audience
Understanding the audiences will bring enough value to the businesses and it can be done through:
Creating a target personal
Get real data with feedbacks
establishing the focus by choosing the networks
Establishing the contents, you're focusing on
3. Establish your measuring metrics
The performance of social media marketing strategies must be constantly tracked to come up with a conclusion that can be optimized then.
4. Dig into what the competitors are doing
Social media marketing is pretty to be followed and before that, it's necessary to study the marketplace, the environment, competition, and trends. It involves:
Social listening
competitive analysis
Positioning
5. Create a curate and engaging social content
Of all the other steps, creating curate and highly captivating content is of utmost importance. You will get to know where your contents can be placed and how to be placed. Also, analyze how it can be improved. The attention span may be less but, you will need to say less with the exceptional contents.
6. Research and choose social media tools
The important quality of a social media marketing strategy is to research for some social media tools no matter what type of business you are running. Of course, you can become familiar with the proper social media marketing tools that can speed up the entire process with a competitive analysis of automatic scheduling and content creation.
Social media marketing strategies are no rocket science and it will definitely need quality efforts and wise planning to get succeed. Whatever and whenever you are planning, plan your strategies with the best planning phase by considering what you are aiming for to reach the highest business position
Tags : Digital Marketing, Social Media Marketing