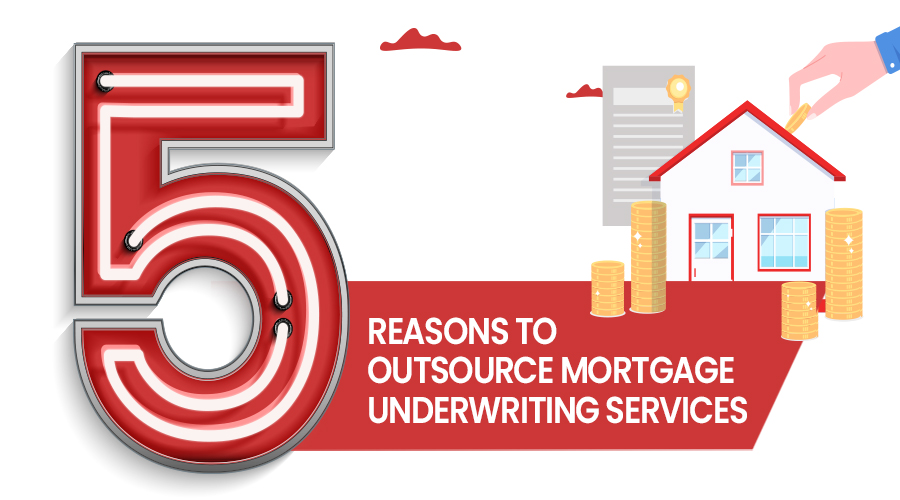 ---
By admin | December ,16th 2021
---
5 Reasons to Outsource Mortgage Underwriting Services
Ever, it's not easy to stay updated on the latest consumer financial protections and regulations. Day-by-day, rules are becoming stricter and this has forced the lenders to act prudently to avoid such liabilities arising due to non-paying clients and ever-increasing compliance checks. One of the best ways to overcome this difficulty is to partner with a dedicated mortgage underwriting support outsourcing company.
Indeed, all the mortgage lenders started agreeing that mortgage loan underwriting requires a dynamically skilled team as they are highly labor-intensive tasks and requires a specialized skill set and training. That is why already some lenders have started looking to outsource mortgage underwriting services to get rid of all their hassles out.
Are you still wondering whether outsourcing mortgage underwriting will help you or not? If so, here are five convincing reasons for you that why you should outsource it and how it will benefit your business!
Top 5 reasons to outsource mortgage underwriting services!
Mortgage underwriting, the last step in the mortgage process constitutes the assessment and careful analysis of mortgage loans as well as the credit worthiness of applicants. This ensures fixing the reliability of a person who has raised a mortgage credit. Outsourcing the Mortgage underwriting demands to a well-established outsourcing company will heighten the methodologies involved in it. Below are the 5 reasons to outsource underwriting!
1. Zero errors with automated application
The complexities involved in mortgage underwriting will be difficult at times and outsourcing them will help you overcome it using the latest tools and technologies. Outsourcing will ensure 100% accuracy with no errors. A mortgage outsourcing provider will inform of you either the acknowledgment or denial in advance thereby assuring the flawless processes.
2. Analyzing and auditing fakes
For eliminating fraudulent credit applications, there are several stringent laws formulated by the banks where those laws might have the potential to reject the lawful credit applications. Outsource providers will help you review such wrong information and ensures to modify it in the credit application. They may also examine the clashing addresses to a larger extent.
By hiring a transcriptionist may need a high salary and additional help but, using the transcription service, you have to pay only for the effective transcripts and not for any extraneous costs. More profitably, using this service will let management concentrate more on important priorities.
3. Careful credit approbation checks
For streamlining the loan applications before the issue of approval, there are several conditions prevail that are to be taken into consideration. Everything has to be considered right from financial assessments to income statements. Outsource providers will completely check on your behalf to ensure that all the criteria are met before passing the loan.
4. Checking essential POI through title audit
Outsourcing mortgage underwriting will assist you in accessing the tittles on your behalf and the outsource provider will ensure that the particular property is free from all sorts of claims. The service provider will check all the points of interest (POI) of a title record and make the necessary modifications required to the loan processing application.
5. Estimation of the stringent property being assessed
Outsourcing the mortgage underwriting support services will help you make the exact estimation of a specific property. This can be done by creating an appropriate appraisal statement and every single detail has been audited right from the area maps, photos, to the property changes. Through the rightful assessment of the property, you can be able to concentrate completely on the other mortgage application processes.
Tags : Mortgage Processing, Mortgage title Support