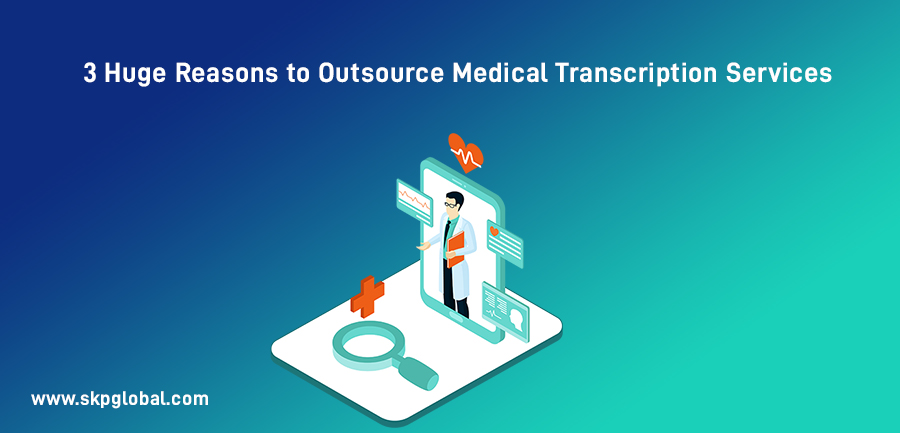 ---
By admin | April ,26th 2021
---
3 Huge Reasons to Outsource Medical Transcription Services
Are you one amongst all who were spending all your effort, unnecessary time, and cost on building up an internal medical transcription team? Then, this is for you! Yes, read this blog to know why outsourcing medical transcription services is of utmost importance.
Outsourcing medical transcription services are far from a hot new topic in the healthcare field. Medical transcription when delivered accurately and quickly within the designated time frame will be productive and painless for many healthcare professionals right from the licensed physicians to the hospital executives.
Rather than getting proofs and bringing down the internal transcription team, many hospitals and medical practices have started looking for the help of outsourced professional transcriptions to address their voice-to-text needs most accurately in a timely & cost-effective manner.
How outsourcing medical transcription benefits the practice?
Today, in the medical industry more and more people started seeking specialized medical assistance and this is why medical transcription outsourcing services and service providers are in greater demand now.
Yes, outsourcing medical transcription services will benefit the practitioners by letting them allow devoting more time to their patient needs and focus less on other organizational activities. It is always vital for doctors to provide accurate reports concerning treatments for all the patients under their care. But, accuracy is the biggest factor that counts here! Henceforth, medical professionals started outsourcing their medical transcription services that eliminate data errors and offer huge benefits.
Explore the 3 huge reasons to outsource medical transcription services
Be it a licensed physician or a hospital executive, outsourcing medical transcription will only be the best decision you have taken this year. Are you thinking to make the switch to a newer and better solution of outsourcing but, still feeling unsure of making the decision?
Read below to find out 3 big reasons why you should outsource medical transcription!
1. Minimize labor and management costs
In-house medical transcription is not only a laborious process but also a budget draining process that leaves healthcare management in a serious bind. Transcription plays a very critical role in medical documentation and hence it is necessary to find a working solution that makes sense.
By hiring a transcriptionist may need a high salary and additional help but, using the transcription service, you have to pay only for the effective transcripts and not for any extraneous costs. More profitably, using this service will let management concentrate more on important priorities.
2. Make healthcare information more easily accessible
There are plentiful reasons available why your medical documentation is to be transcribed and most among that is the staff members can search for digitally. Yes, transcription services can take any audio/video files at any time and transform the speech to easy-to-index digital text which is easily searchable. The benefit of outsource medical transcription services doesn't end here as with accurate medical transcripts of discharge summaries, any patients can their information very easily.
3. Obtain timely and accurate medical reports
Selecting service providers with only trained transcriptionists will save your time and money by adhering to a proprietary multi-step review process where the transcribed content is scrutinized for errors. This ensures that only high-quality transcripts are received every time. Skilled transcriptions use speech technology along with comprehend medical jargon. Thus, outsourcing medical transcription services will let you focus on your critical role of helping patients alone as all others are taken care of by experts.
Tags : Medical Billing, Medical Processing