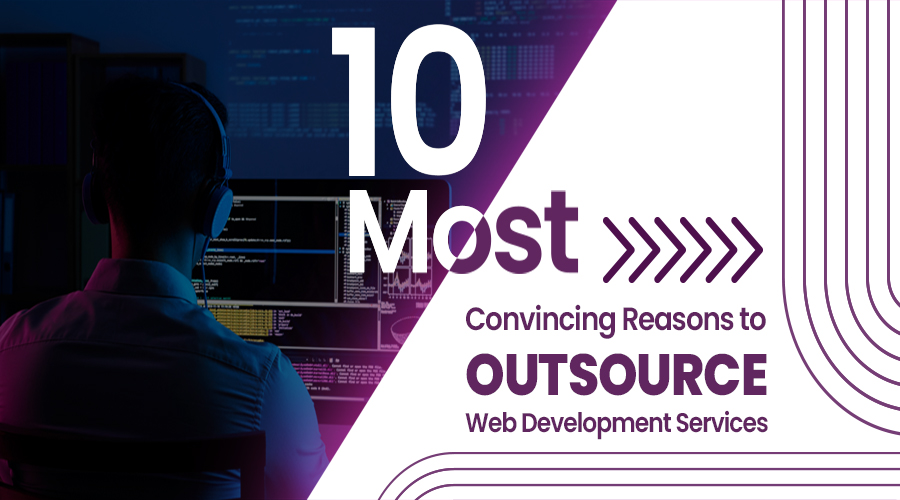 ---
By admin | December ,16th 2021
---
10 Most Convincing Reasons to Outsource Web Development Services
At present, outsourcing web development has become a global trend. Starting up your online business makes you inevitably face the dilemma- whether to hire an in-house web development team or take greater chances and go for full web development outsourcing. Fair enough, like any other choices in business, it will also definitely bring dare consequences and needs to be taken cautiously and seriously. Today, most companies started outsourcing web development services, and so why not you? Begin today!
Dive deep into the 10 most reasons to outsource web development services listed below!
In this blog, we consider in detail to encounter about top 10 most convincing reasons to outsource web development services. Besides, we have also offered recommendations for outsourcing web development and explained what criteria you should pay attention to while choosing the web development outsourcing partner. Outsourcing web development has become a crucial part of today's modern-day business as it largely contributed to business growth.
1. Cut down Extra Costs
Outsourcing web development is the wise choice to cut off spending a lot of money on hiring your in-house team. Getting done by outsourcing will let you pay only a reasonable amount with guaranteed best service as it reduces both labor and operational costs. Especially, when you have low budget outsourcing is the only best option as it eliminates all the operational expenses like:
Renting an office space
Buying equipment
Employee training and benefits
Other utilities
2. Timely Delivery of Project
Be it any kind of application, time plays an important role and this is what businesses look for when they opt for outsourcing. While outsourcing, ensure that your website will be completed at the promised time so that all other processes related to online marketing can be done without hassles.
3. Access to Top Worldwide Talents
Indeed, outsourcing gives you access to the world's best UX/UI designers, best programmers, project managers, and creators who can make your web development project, a massive hit!
4. Focus on your Core Business
Outsourcing to the best company will let you focus on other core business processes with a better concentration on all vital tasks. This will save your valuable time from hiring, recruitment, and allocating works to your in-house team. Instead, you can concentrate on
Sales and marketing
Customer care
Business expansion strategies
5. Project Scalability
Outsourcing will increase your scalability right from developing an MVO to collect feedback and scale or pivot with the accurate adjustment on manpower capacity.
6. Experienced Professionals of the field
Outsourcing connects you with skilled developers on various business domains. This will not only all you hire developers, but also project managers who were expertise in managing software development.
7. Handle Risks Efficiently
Outsourcing gives you control of continuous monitoring and tracking of work with updates on every step. This will avoid the risks of web development going wrong anywhere.
8. Offers Massive Business support
Yes, outsourcing will let you combine your innovative business ideas with tech partners who will make your final product not only fit your idea but also fit your business.
9. Reduce Burn Rates
Outsourcing cuts off all expensive costs and makes a toll on your burn rate with the flexibility to pay for your work on an hourly basis.
10. Benefit of latest technology expertise
If you outsource, you'll be benefitted from the latest tools and technologies comprised of good frontend and backend developers to get a better, user-friendly, and highly effective website.
Summing Up
For all those who are planning to outsource, we have put together an all-encompassing outsourcing guide that will let you know everything about costs, savings, calculations, and tips to save more for a successful outsourcing relationship. Be it a startup or small or medium-sized business, outsourcing web development services becomes a viable option here as it has numerous advantages to offer like cutting the hiring and operational costs, and reducing the time-to-market, or hiring top talents across the world.
Tags : Development, Web Development